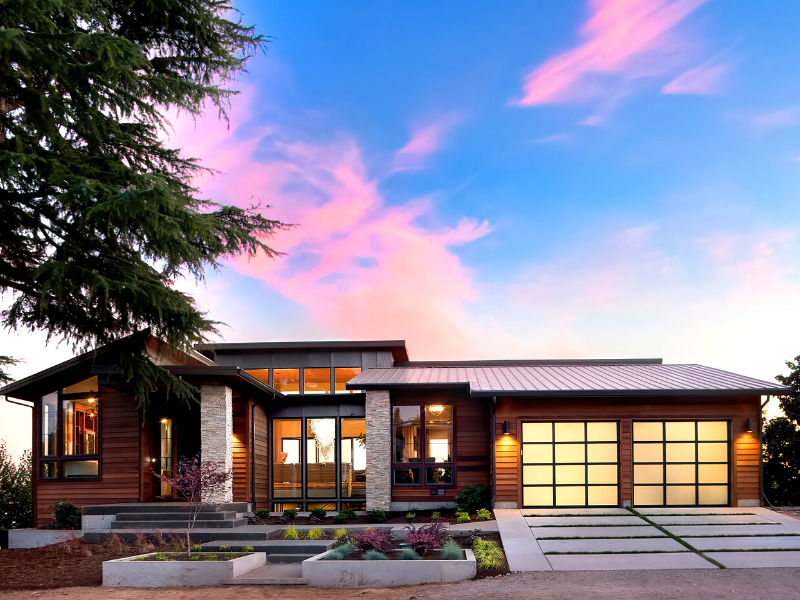 Sleek, sustainable design, open concept floor plans, minimalism, and eco-conscious thinking are defining characteristics of modern architecture. Recently, modern design concepts in home building have become more popular, and the resurgence of interest in modern real estate has followed suit.  
These characteristics are what define Contemporary Architecture: 
Clean geometric lines: At the heart of modernist values lies the simplification of form. Modernist homes have a very 'linear' feel with straight lines and exposed building materials. Furnishings and adornment reflect this value, incorporating vibrant, geometric and abstract designs. 
Smaller, multifunctional spaces: With the Tiny House subculture consistently on the rise, and the new generation of homeowners expressing a desire to move away from the sprawling dwellings of the past, multifunctional living spaces are a must for modern homes. Built-in storage is commonly used to reflect this multi-purpose; space-saving feel. 
Eco-conscious: Modern homes are well–suited for technological and green upgrades, as well as eco-friendly building materials and energy efficient practices, and flat roofs to accommodate solar power. A new trend is to bring nature into each room for a calming, soothing effect. Large windows are abundant in modern architecture, allowing light to fill and expand the interior space, bringing the natural world indoors. 
Post-and-beam structure: Exposed wood posts and ceiling beams are classic elements in modern architecture. This style of building has been around for thousands of years; however, modern homes significantly emphasize the structure, rather than hiding the bones behind drywall. In new modern homes the post-and-beam structure can be made of concrete, iron or other materials. The visible horizontal and vertical beams reinforce the clean geometric lines of the space. 
Open concept:  Modern design strives to "open" the space by eliminating enclosed rooms. A common tactic is to open the kitchen and dining room into an open living space, allowing the spaces to flow into one another. 
Minimalism: With open and connected modernist spaces, careful curation of furniture, adornments, and household objects is paramount to incorporating the modernist aesthetic. Generally, modernist homes have art and furniture that reflects the clean geometric lines and the natural materials of the architecture, leaving less space for clutter. Minimalist philosophies encourage few household items that serve both form and function, which work well within this design and architectural style. 
Originally posted on Windermere.com by Sandy Dodge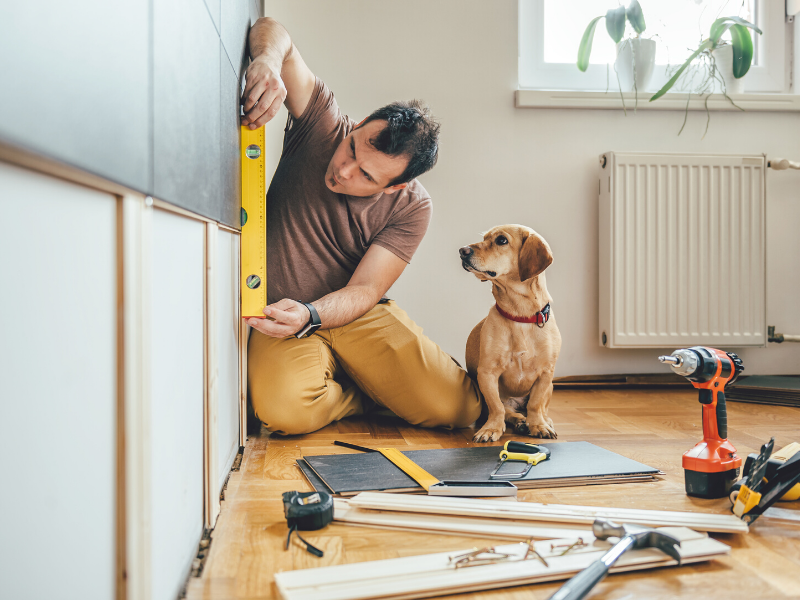 Every component of your home has a lifespan. Common questions asked by homeowners include when to replace the flooring or how long to expect their siding to last. This information can help when budgeting for improvements or deciding between repairing and replacing when the time comes. We're all familiar with the cliché: They just don't build things like they used to. And while this may be true when it comes to brick siding or slate roofing, lifespans of other household components have increased in recent years. Here are the life expectancies of the most common household items (courtesy of NAHB):
Appliances: Among major appliances, gas ranges have a longer life expectancy than things like dishwashers and microwaves.
| | |
| --- | --- |
| Appliance | Life Expectancy |
|  Oil-burning Furnace |  20 years |
|  Heat Pump |  16 years |
|  Gas Range |  15 years |
|  Electric range / Refrigerator / Dryer |  13 years |
|  Electric / Gas Water Heater |  10 years |
|  Garbage disposal |  10 years |
|  Dishwasher / Microwave / Mini Fridge |   9 years |
Kitchen & Bath: When choosing your countertops, factor in the life expectancies of different materials.
| | |
| --- | --- |
| Kitchen / Bath Item | Life Expectancy |
|  Wood / Tile / Natural Stone Countertops |  Lifetime |
|  Toilets (parts will require maintenance) |  50+ years |
|  Stainless steel sink |  30+ years |
|  Bathroom faucet |  20+ years |
|  Cultured marble countertops |  20 years |
|  Kitchen faucet |  15 years |
Flooring: If you're looking for longevity, wood floors are the way to go. Certain rooms in your home will be better suited for carpeting, but you can expect they'll need replacing within a decade.
| | |
| --- | --- |
| Flooring Material | Life Expectancy |
|  Wood / Bamboo |  Lifetime |
|  Brick Pavers / Granite / Marble / Slate |  100+ years |
|  Linoleum |  25 years |
|  Carpet |  8 – 10 years |
Siding & Roofing: When choosing roofing and siding for your home, climate and maintenance level factor into the life expectancy of the material. However, brick siding and slate roofing are known to be dependable for decades.
| | |
| --- | --- |
| Siding / Roofing Material  | Life Expectancy |
|  Brick Siding |  100+ years |
|  Aluminum Siding |  80 years |
|  Slate / Tile Roofing |  50+ years |
|  Wood Shingles |  30 years |
|  Wood Siding |  10 – 100 years (depending on climate) |
Are extended warranties warranted?
Extended warranties, also known as service contracts or service agreements, are sold for all types of household items from appliances to electronics. They cover service calls and repairs for a specified time beyond the manufacturer's standard warranty.
You will have to consider whether the cost is worth it to you. For some, it brings a much-needed peace of mind when making such a large purchase. Also consider if the cost outweighs the value of the item. In some cases it may be less expensive to replace a broken appliance than to pay for insurance or a warranty.
Originally posted in Windermere.com by Sandy Dodge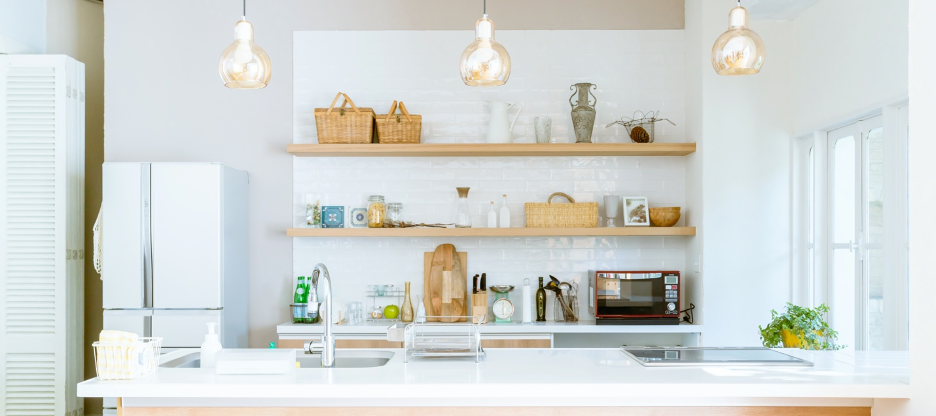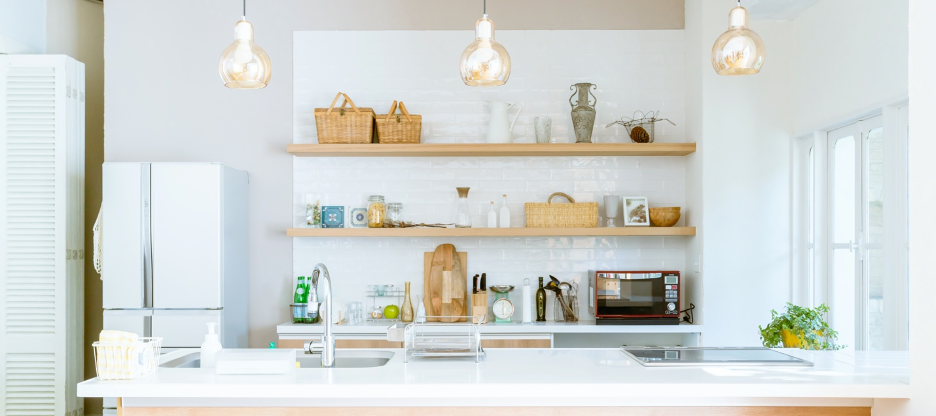 When organizing your home, knowing where to start can often be the most difficult part. Breaking the process down room-by-room and keeping the following tips in mind will help you get started and keep your home organized in the long run.
Kitchen
Given how much time is spent in the kitchen, it can get disorganized easily. Kitchen countertops are also one of the most frequently touched and used surfaces in a home. Taking items off the counters and storing them on shelving above or below is an effective first step. Open shelves are a great fixture for easy access while preparing and cooking meals. Store the items you use the most here and stow away large tools that you don't use as often.
A lazy Susan is a must-have for kitchen organization, bringing the back of the cabinet to your fingertips. A great home for kitchen items that are heavy, clumsy or messy, they are highly accessible. Cleaning out a lazy Susan is much simpler than cleaning out cabinets, which frees up shelf space for those items that usually sit out on your kitchen counter.
Living room
A good first step for your living room is to take inventory. See what items can be disposed and what might belong elsewhere in the house. Take time to think about the flow of the room and how you envision foot traffic will interact with the space.
Multifunctionality goes a long way in the living room. Coffee tables, side tables, and ottomans that are designed with more than one purpose in mind will help to declutter. Look for pieces with underneath storage, drawers, or magazine holders.
Bathroom
For both aesthetics and functional storage, open shelving will help take your bathroom to the next level. It provides plenty of room to stow bathroom supplies, towels, toiletries, and brings a more welcoming feel to the space.
This is a great time to go through your bathroom products. Discarding old, expired, and unused items will free up additional space and give the room a cleaner feel. Once you've cleaned everything out, take this time to reorganize your medicine cabinet with your newly reduced bathroom inventory.
Bedroom
Keeping your bedroom organized is a matter of maximizing space and minimizing clutter. If you have limited closet space, try placing a garment rack in a corner or against a wall, or store out-of-season clothing items elsewhere. The underside of your bed is useful for storage. Try functional organizers such as bins and roll-out shelving. Using your dresser as a nightstand or your bookshelf as a décor piece will add flair and cut down on clutter as well.
Making the most of the hanging space in your closet is a sure-fire way of keeping it decluttered. Position the most-used items at eye level and stow lesser-used clothes and accessories higher up. Not only does this give priority to your closet which helps you stay organized over time, but it can save you time when getting ready.
Garage
A common tactic for creating storage space in your garage is to go vertical. This will help free up space for your stuff while maintaining the space reserved for your vehicles. The garage is also a good home for large or bulky items that you don't use every day.
Going room-by-room will help you piece together the look and feel of the organized home you want to achieve. Be comfortable with clearing out a space in order to put it back together the way you have in mind. Sometimes rooms have to get messier before they get organized.
Originally posted in Windermere.com by Sandy Dodge
For homeowners looking to reduce their home's carbon footprint, increase its sustainability, and add value to their property, going solar is an obvious choice. Understanding how solar works and how to maximize its benefits are key first steps in your journey to becoming a solar energy-producing household.
How does solar work?
The technology that turns your house into a solar energy-harnessing hub is called photovoltaics, more commonly known as PV. PV works by fielding direct sunlight and absorbing its photons into the solar panels' cells, which then creates electricity that provides energy for your home. This energy reduces your home's output of carbon and other pollutants, which translates to cleaner air and water.
With the sun as the power source, the majority of the power generation occurs during the middle of the day, making summer the highest producing season. But don't worry, it all evens out in the end.
Rooftop panels work best when they are exposed to sunlight, free of shade or shadow from nearby trees or structures. Given the sun's east-to-west path, south-facing roofs are best-suited for maximizing your solar power. To see if your roof is set up for success, consult a mapping service or solar calculator to establish your roof's suitability. If your roof isn't up to standard, there are options such as ground mount solar installations and community solar gardens that you can explore.
Components
Solar panels: Capture the sun's energy
Inverter: Converts the sun's energy to a form that powers devices
Racking: The foundation that holds your solar system in place
Batteries: To store the energy generated
Charge controller: To control how quickly the batteries charge
What are the benefits of solar power?
Sustainability: Having a renewable source of energy coursing through your home reduces your household's carbon footprint and increases your eco-friendliness.
Savings: How much money you save by going solar depends largely on how much energy your household consumes and the energy output of your solar panels. The cost of going solar has continued to decrease every year, so you are more likely to save as time goes on. For information on state incentives and tax breaks, explore what options apply to your home by visiting DSIRE (Database of State Incentives for Renewables & Efficiency).
Utilities: Whether your utility company charges a flat rate for electricity or charges variable rates throughout the day based on electricity production—i.e. higher rates in the afternoon, lower rates at night—solar power offsets the price you are charged for electricity. It becomes even more valuable during those higher-rate periods or during seasonal fluctuations in utilities costs.
Sell it back: Homeowners can sell their solar energy back to utilities through "Net-metering" plans. When your power generation rate is greater than your household's consumption rate, the end result on your electric bill is a net energy consumption. Refer to DSIRE for region-specific regulations and policies.
Home value: A recent study by The Appraisal Journal found that homes with solar PV systems increased their sale price by an average of 3.74%, equaling a premium of $14,329.
Although the right solar solution looks different for each household, what remains true across the board is the environmental benefits and increased home values that solar power brings. Taking all this information into your research will improve your home's renewable energy and reduce your carbon footprint.
Originally posted in Windermere.com by Sandy Dodge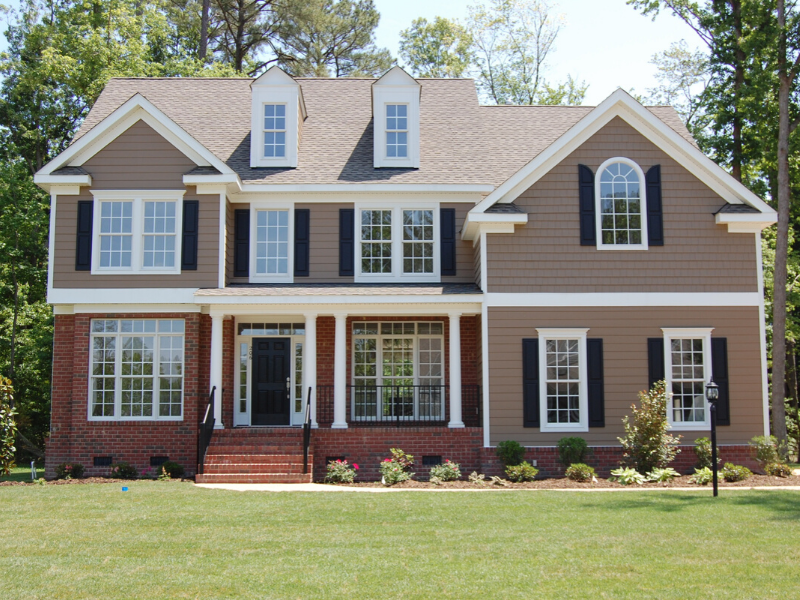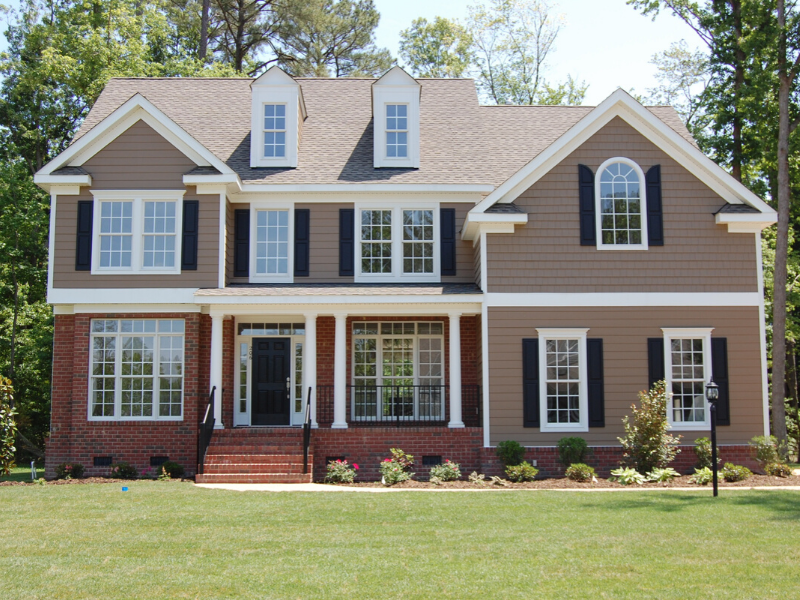 When it comes time to sell your home, first impressions are crucial. Improving your curb appeal helps to make the most of a buyer's first glance and sets the stage for their interest in purchasing your home. The following projects are simple and inexpensive ways to enhance both your home's first impression and its value.
Landscaping
Lawn: A healthy, well-tended lawn goes a long way towards improving your curb appeal. Clean up all weeds, leaves and debris, and consistently water your lawn to give it that fresh green look. If you live in an arid climate, consider grass alternatives like artificial turf for the best lawn aesthetic.
Plant colorfully: Adding color variety to your front yard will grab buyers' attention. Align smaller plants, like groundcover and flowers, neatly within your flower beds, aiming for symmetry when possible. Use larger plants and trees to frame in your entryway or walkup. If your front yard doesn't have flower beds, try adding hanging planters or window boxes.
Lighting: Landscaping lighting boosts your curb appeal during nighttime, accentuates your shrubbery, and adds a welcoming touch for visitors as potential buyers, lighting the way to your door.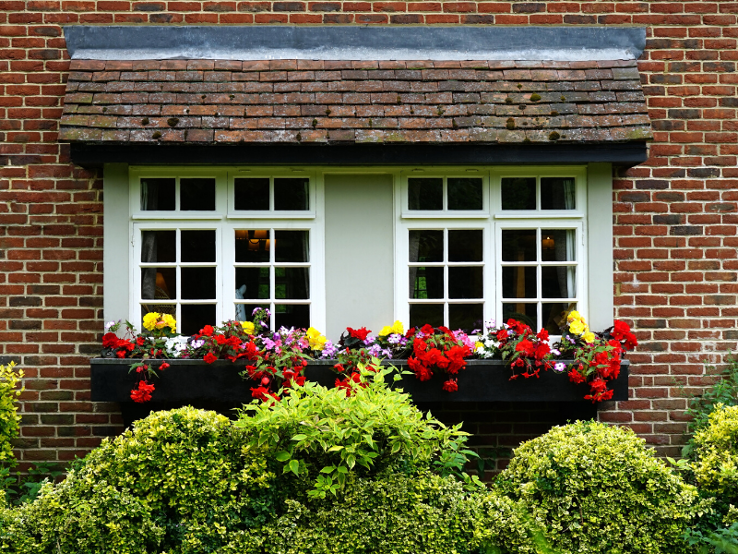 Porch
Front porches set the stage for all your home has to offer. Improvements here will play a significant role in how comfortable potential buyers feel about the property and how inspired they are to explore the inside of the house.
Door: Your front door is an opportunity to make a tasteful statement. Look at bold color choices that are within or slightly stretch your home's exterior color palette. Take time to prepare the surface for a fresh coat of paint to make the color pop as much as possible. Try stylish doorknob options that accentuate the aesthetic to give your door some added flair.
House numbers: New and stylish house numbers are an easy, eye-catching touch to the look of your porch. Look for styles that match with your exterior color palette and any exterior lighting fixtures.
Go for comfort: Incorporating classic front porch elements like a porch swing, sitting bench, and other outdoor furniture gives a welcoming aura to the front of your home and creates a sense of comfort for prospective buyers.
Shutters: Windows are the gateway to the inside of your home. Shutters of delicate fabric will bring elegance to your front porch, while wooden shutters deliver a solid, cozy vibe.
Other
These miscellaneous projects will add the finishing touches to your home's curb appeal and get it in prime selling condition.
Quick maintenance: Small chores and minor fixes like cleaning gutters, repairing chipped paint, and cleaning windows are important for buyers with a detailed eye.
Staining: Instead of replacing fences or garage doors, look into applying a fresh stain. This brings a refreshed look and is much cheaper than a full renovation or replacement.
Power wash: Power washing your walkways and driveways makes a significant difference in curb appeal. If buying a power washer is outside your budget, explore rental options from the big-name hardware stores.
This post originally appeared on windermere.com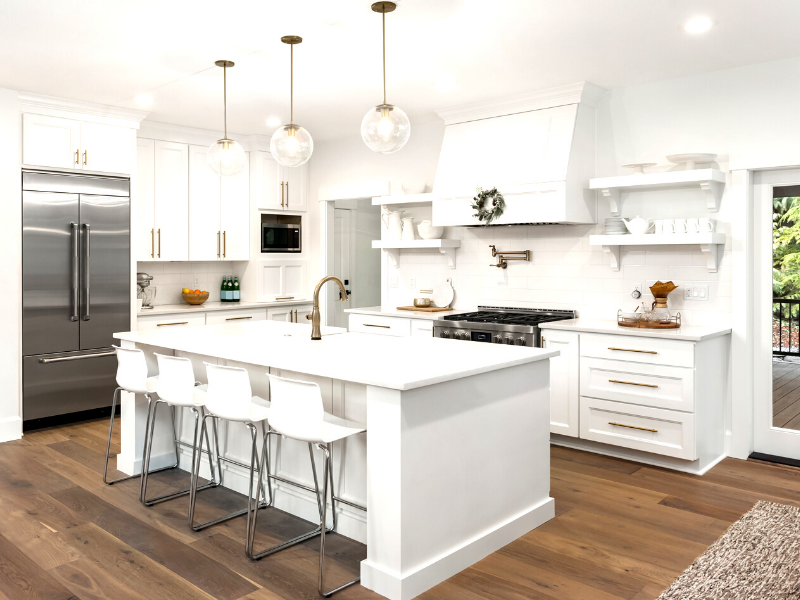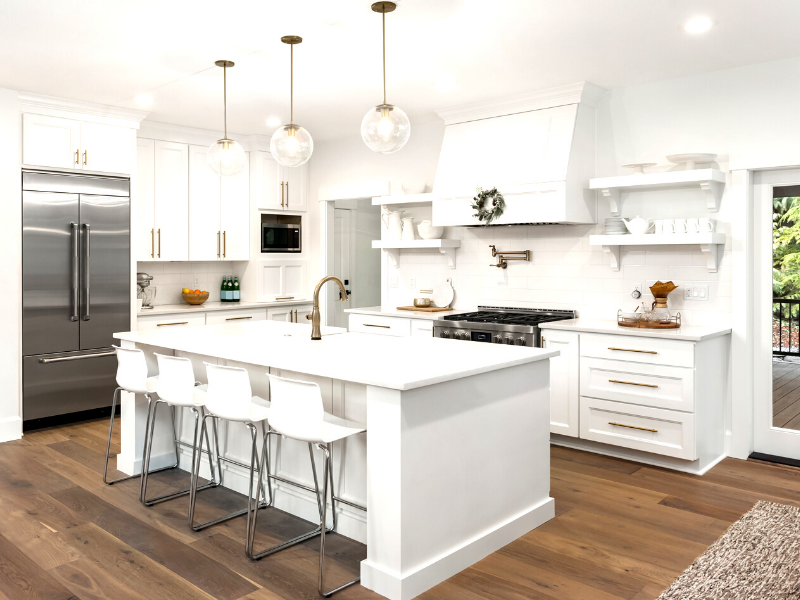 Image Source: Canva
Ask a homeowner which room they would most like to improve, and most will point to the kitchen – the starting point for every meal and the heart of the home.
Ask those same people why they don't move forward with a kitchen remodel, and many will say the project seems so overwhelming they don't know where to start. If your kitchen needs an upgrade, here are some step-by-step suggestions to get you started.
Gather your thoughts
The steps that follow will all progress much easier if you take time beforehand to form a strong opinion about the desired look and layout of your new kitchen.
Start by reviewing kitchen magazines and photo-heavy kitchen remodeling guides and/or websites. Compiling clippings and printouts in a notebook helps you refine your vision. Clip or print the photos that capture your imagination, add notes, and draw circles and arrows around the things you like most.
Once you have a clearer vision of what you want, search online for better examples and new solutions, if necessary. If you live with a significant other, share your ideas with them and don't allow yourself to become too committed before getting buy-in from them. Contractors and sales associates will expect a unified front.
Focus on the flow
Another major factor you'll want to consider is how your new kitchen will be used, and by whom:
Do you want to cook with others?
Do you want family and guests to gather in the space while you cook?
Do you want to serve meals in the kitchen?
Do you want to display your dishware?
Where would you like things stored for maximum efficiency?
Imagine yourself happily cooking and entertaining in your new kitchen, then note the key elements necessary to make those dreams a reality. Having a list of your desired kitchen features and storage needs will help ensure your plan meets your vision.
Determine your budget
According to the annual Remodeling Magazine survey of costs, a "midrange," "minor" kitchen remodel will cost homeowners living on the West Coast about $23,000. Those same folks can expect to pay about $70,000 for a midrange "major" kitchen remodel. Determine what you can afford before you start work to ensure that your vision is within reach, or to help prioritize what's most critical.
What to do with the cabinets
Replacing the cabinets is one of the most expensive improvements you can make in a kitchen remodel (typically consuming 20 to 40 percent of the overall budget, according to Architectural Digest).
Consider refacing instead. This can include one of the following: 1) Installing completely new cabinet doors and drawer fronts or 2) installing new wood or laminate veneer over the existing cabinet and drawer fronts or 3) simply refinishing the existing cabinet and drawer fronts.
Shopping for contractors
The contractor you choose will determine much of the cost, the pace of your project, the amount of disruption, the final results, and your level of satisfaction. So be thorough in your search:
Ask friends and family for referrals and advice.
Interview at least three of the leading prospects in-person.
Ask to see samples of past work.
Look for someone who complements your operating style (similar personality and communication style).
Once you've narrowed your choice to one or two, ask to speak with a few past clients.
You'll be tempted to latch onto the first contractor who gets rave reviews from a friend or family member. But remember: You and your project are unique, and it's worth the time and effort to be rigorous in your search.
Selecting appliances
If you're planning to replace appliances, here are three factors you'll want to consider:
Finish – Stainless steel is still the most popular option, but beware: smudges, fingerprints, water spots, and streaks will be obvious. Black stainless steel has a warmer feel and is better at hiding spots.
Extended warranty – According to Consumer Reports, extended warranties are hardly ever worth it because today's appliances are so reliable. And if something does fail, it's often less expensive to just pay for the repair.
Unbiased testing and reviews – Before making an appliance purchase, use the information resources available through Consumer Reports.
A final note
Moving walls and extending your home's foundation are both very expensive options. If your kitchen plans call for these architectural renovations, perhaps you've outgrown your home and need something larger (with an already-improved kitchen).
This post originally appeared on Windermere.com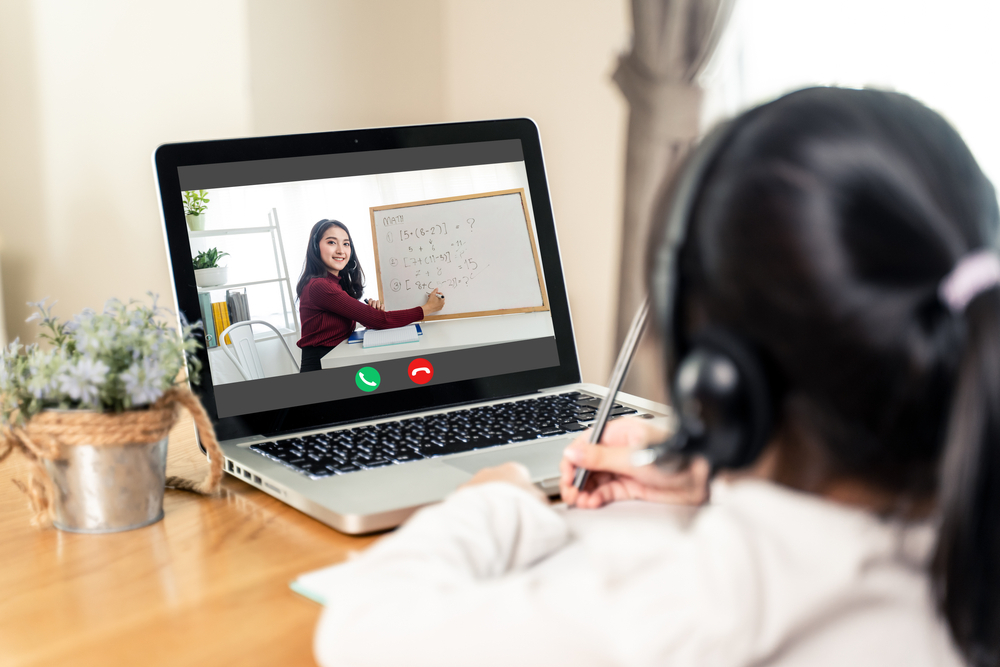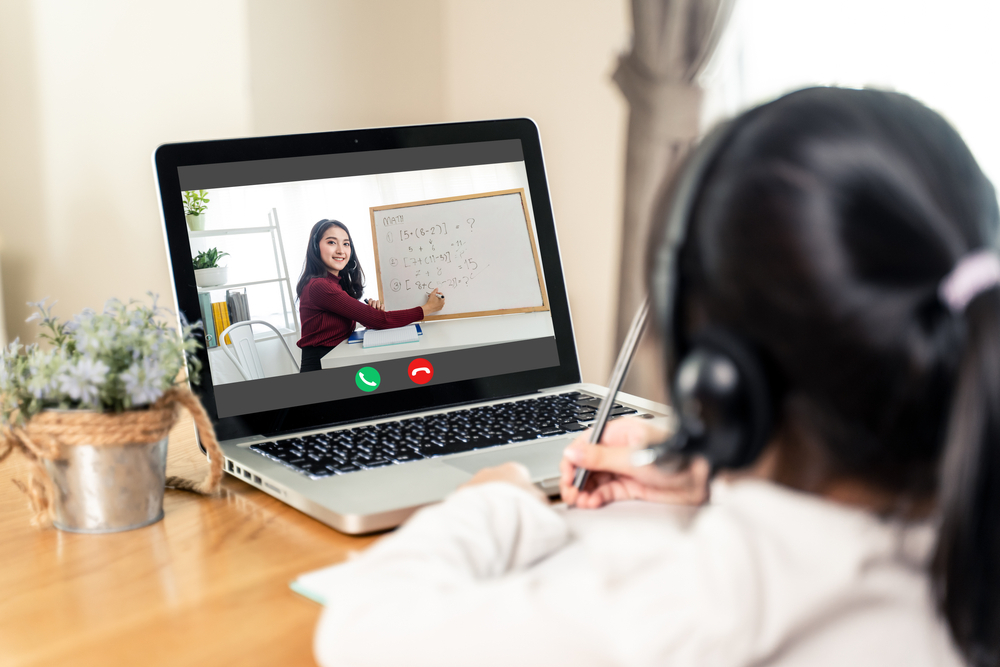 For those whose children will be taking classes online or participating in remote learning this school year, keeping the following tips in mind will help create an at-home learning environment that prioritizes health and learning, while being able to adjust to this year's unknowns.
A home cannot fully replace all that a formal school classroom has to offer. However, what it lacks in traditional classroom appeal it makes up for in comfort and familiarity. Prepping your home to take on this additional role will help set your child up for success during what will be a unique academic year for many.
Set the tone
One of the best ways to set your children up for success this school year is to get them excited. It is important to communicate that this school year, even with all its unknowns, is an exciting opportunity for new and creative ways to learn and grow. Helping your child understand the unique learning possibilities your home provides will get the school year off to an enthusiastic start.
Create a space 
Establishing a designated space for school at home is important for a child's ability to focus and to associate a space with learning. How you create a classroom environment will depend on your home and your needs. If your child is most comfortable in their room, try incorporating their classroom setup there. Depending on your child's age, it may help to have toys or familiar room objects nearby. However, if your child is distracted by their own room, it may be better to set up elsewhere to help them focus, such as a nook or office.
Allowing your child the freedom to make the space their own will help stimulate their imagination, which is vital to their learning and enjoyment of school.
Wherever the home classroom is, be sure that area has minimal distractions, maintains a strong internet connection, and is well-stocked with school supplies within reach at all times.
Back to school
To maintain a sense of normalcy, keep your family's back-to-school traditions intact this year, such as picking out school supplies, back to school clothes shopping, and everyone's favorite first day of school photo. These ceremonies of preparation for the school year will build excitement while bringing some familiarity to those final days of summer.
Establish a routine
Just as adults have discovered new routines to parallel the shift to remote work, children need a shift in their daily flow to mirror the change to remote learning. The rigor of their school schedule will determine how much flexibility you have in putting together a routine.
Stay active, incorporating movement breaks throughout the day to make up for the lack of physical activity. Plan out times away from their computer screens to differentiate between work and play time.  It's recommended that children move at least 60 minutes a day, so prioritize exercise and movement, going outside when possible. This change of scenery is a helpful intermission for children. It gives their eyes a rest from their screens and returns them to their learning space feeling refreshed and revitalized.
Granted, your ability to facilitate your child/children's preparedness and monitor their continued learning is based on various factors like your work schedule and what resources your school district is providing for at-home learning. No matter your household's situation, taking these factors into consideration where possible will help set your student(s) up for success.
This post originally appeared on www.windermere.com.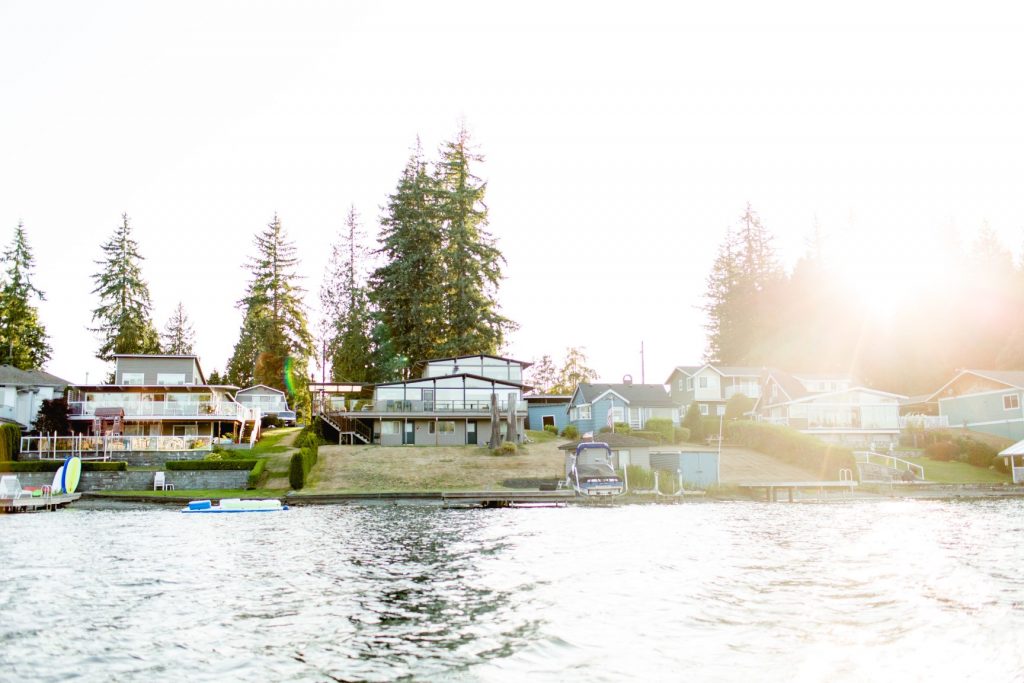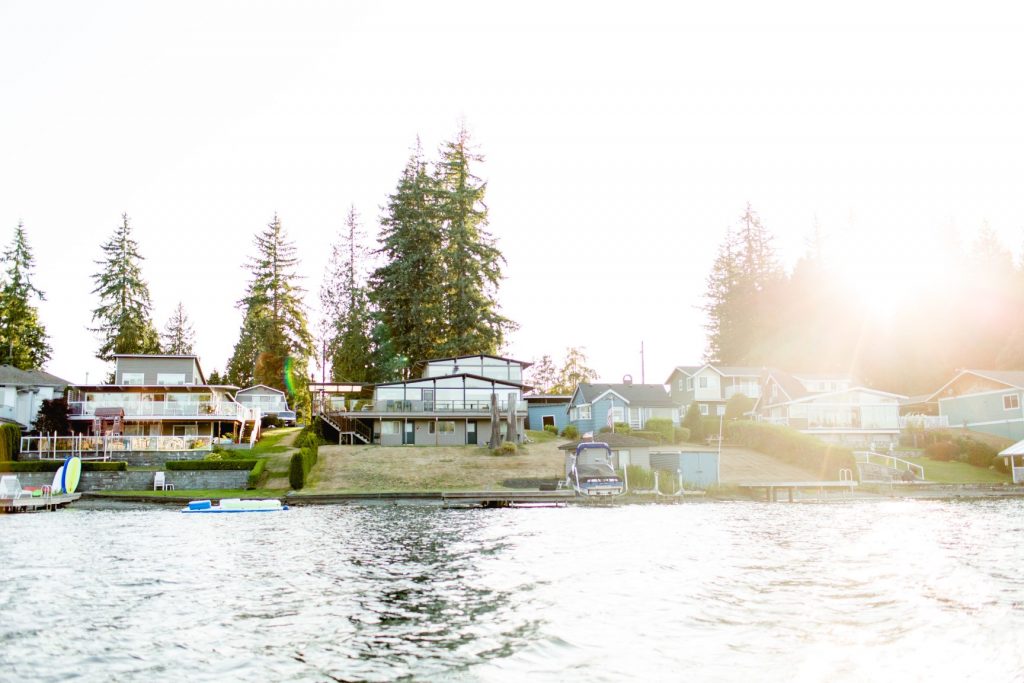 Whether you're a skier who loves the mountain slopes of Colorado, a lover of the beaches of Southern California, or a potential retiree seeking to escape the snow-laden Northeast for the wide-open, sunny lands of Arizona, there are homes available to meet a wide range of budgets. The biggest decision a potential second homeowner must make is whether they are going to solely own their vacation home or turn it into a vacation rental. Here are the advantages and disadvantages to both options:
Investing in vacation rentals
Pros:

A good vacation rental property generally provides a healthy rental revenue which could potentially cover mortgage payments while also generating healthy additional profit.
Using an online short-term rental service like Airbnb makes it convenient to manage your rental property. Their website interface makes pricing, marketing, and communication with potential guests quite straightforward and easy. Airbnb will also oversee the billing process for you.
You may qualify for federal tax breaks and deductions related to your investment property. Everything from professional fees or commissions – including property management services- to cleaning and maintenance are potential tax write-offs.

Cons:

Vacation rentals can be costly to manage, both in terms of time and money. These properties may require seasonal upkeep and special maintenance considerations. You may even incur costs to maintain or monitor the property even when it's not actively being utilized.
Vacation rental properties are particularly sensitive to seasonal fluctuations and economic downturns, which could leave you financially exposed if you suffer a lack of booking revenue.
Many states and cities are cracking down on short-term rental services. In California, for example, the fight has been primarily local, reaching a fever pitch in the San Francisco Bay Area. Increasingly state and local municipalities are seeking to reign in short-term vacation rentals, which could put a damper on potential revenue from these properties.
You may experience higher renovation and repair costs on a short-term rental. Most travelers expect the latest appliances and furnishings, so you will have to update every few years. Unfortunately, short-term renters are less likely to report any necessary repairs and guests are far less likely to treat the property with respect since there's no sense of ownership or obligation.
Owning a vacation home
Pros:

Long-term profits: While assets fluctuate in value in the short term, vacation properties are more likely to retain their value and appreciate because they are located in popular areas with a geographically limited supply.
Familiarity: Returning to the same place time and after time can be comforting as you become familiar and comfortable with the location. It allows you the freedom to be yourself and the opportunity to expand long-term friendships with residents.
Convenience: The ability to conveniently store items that are used exclusively at the second home simplifies travel and packing.
Retirement head starts: Though we may love where we work and live, every place has its drawbacks. A common goal of retirement is to have a place to retreat for the times of the year we dislike the most at our main residence. Locating and buying a second home prior to retirement enables you to experience the benefits of a refuge before actual retirement, a time to correct and amend your plans if the reality is different than the dream.

Cons:

Initial purchase costs: Most people have higher expectations for a property that they intend to own, rather than to rent. These expectations can translate into high prices.
Home maintenance: As the homeowner, you are responsible for all home maintenance work.
Travel time: A second home will be located hours from your primary residence, requiring either long auto trips or airline flights.
Inflexibility: If you are paying a significant amount of money each month for a second home, you may feel that you need to constantly visit the property to justify your investment.
This post originally appeared on Windermere.com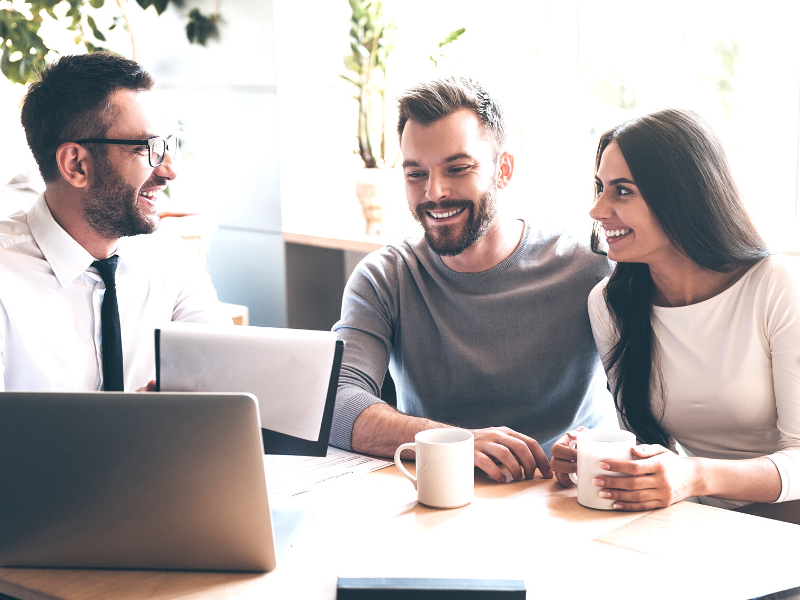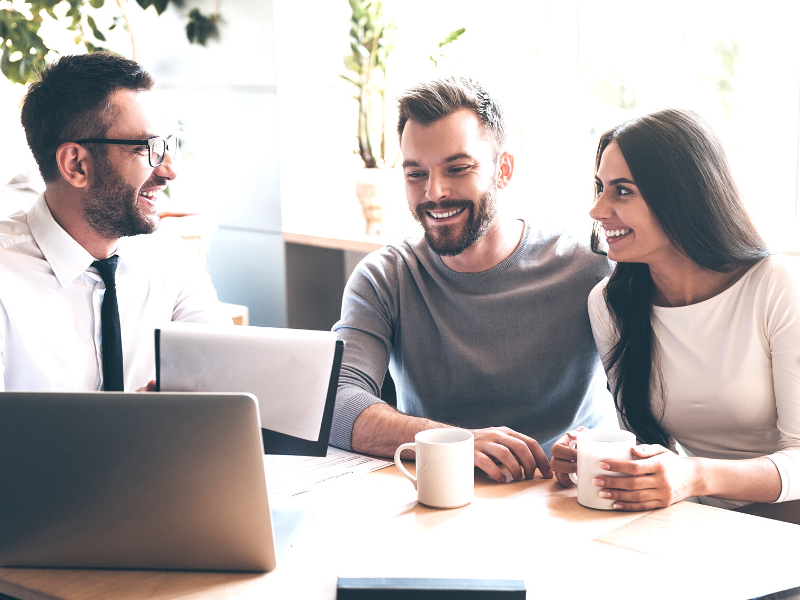 Whether you're a first-time homebuyer or you currently own and are looking for a new home, the ideas below will help you better navigate that all-important first step: Finding a property that is both appealing and affordable.
The search for a new home always starts out with a lot of excitement. But if you haven't prepared, frustration can soon set in, especially in a competitive real estate market. The biggest mistake is jumping into a search unfocused, just hoping to "see what's available." Instead, we recommend you first take some time to work through the four steps below.
Step 1: Talk to your agent
Even if you're just thinking about buying or selling a house, start by consulting your real estate agent. An agent can give you an up-to-the-minute summary of the current real estate market, as well as mortgage industry trends. They can also put you in touch with all the best resources and educate you about the next steps, plus much more. If you are interested in finding an experienced agent in your area, we can connect you here.
Step 2: Decide how much home you can afford
It may sound like a drag to start your home search with a boring financial review, but when all is said and done, you'll be glad you did. With so many people competing to buy what is available, it's far more efficient to focus your search on the properties you can afford. A meeting or two with a reputable mortgage agent should tell you everything you need to know.
Step 3: Envision your future
Typically, it takes at least five years for a home purchase to start paying off financially—which means—the better your new home suits you, the longer you'll most likely remain living there.
Thinking of your near future, what life events do you anticipate in the next five or six years? If you're planning to add to the family or change careers, or even rent out a portion of your home to others, share this information with your real estate agent. They will be able to help you evaluate your current and future needs to help find the best home that you can grow into.
Step 4: Visualize your ideal home
When it comes to this step, be realistic. It's easy to get carried away dreaming about all the home features you want. Try listing everything on a piece of paper, then choose the five "must-haves," and the five "really-wants."
For more tips, as well as advice geared specifically to your situation, connect with me by clicking here.
Originally posted on Windermere.com by Sandy Dodge.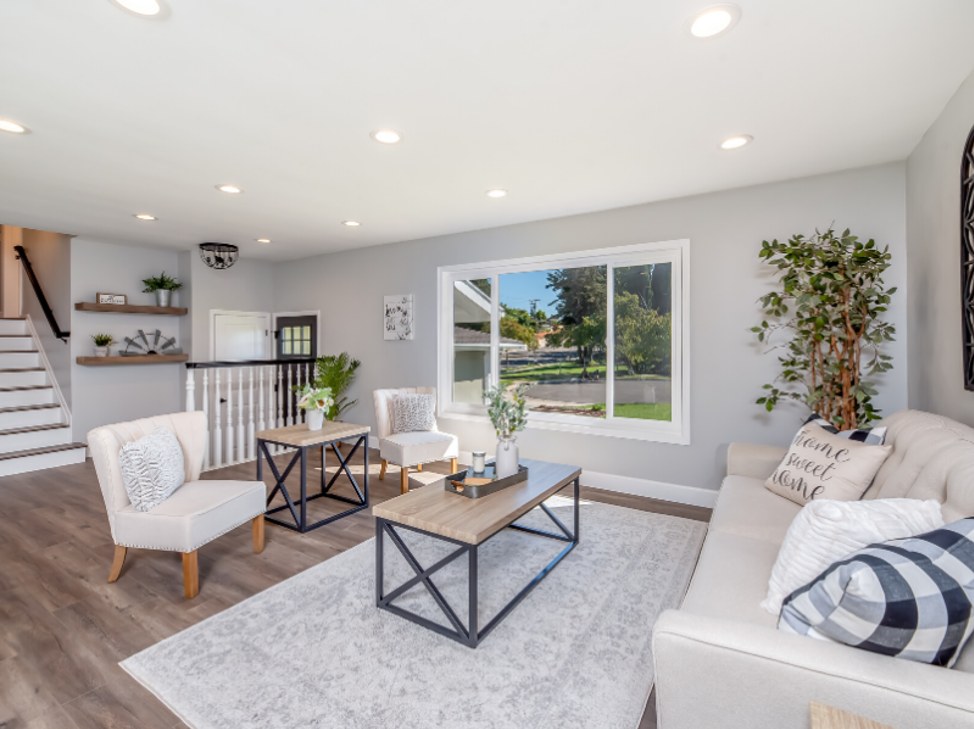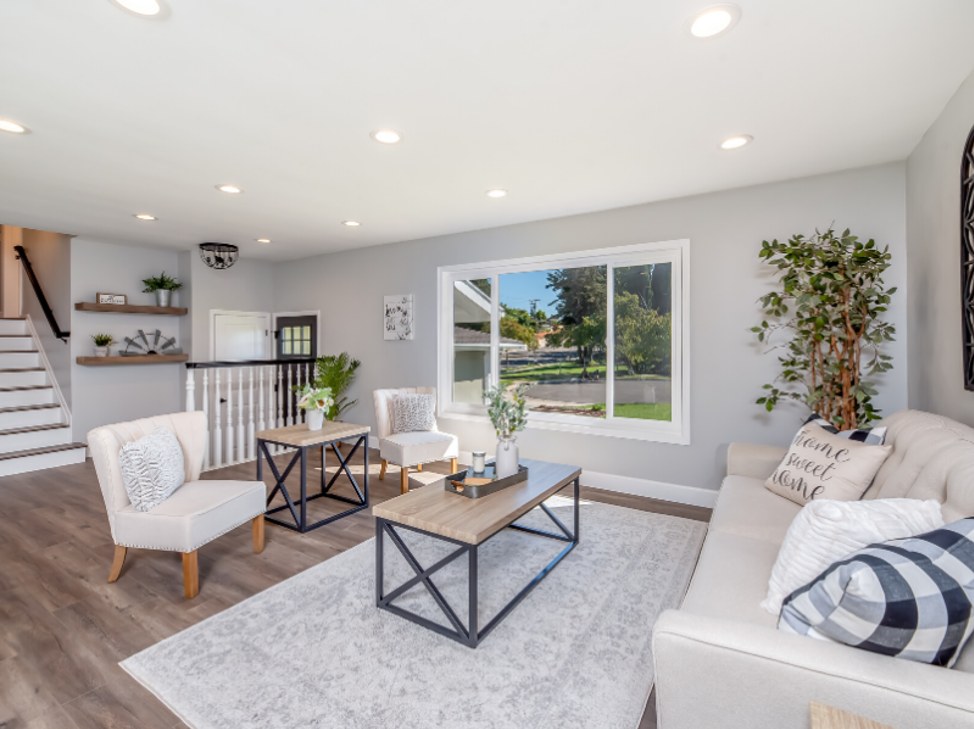 Thanks to COVID-19, the new reality is that many open houses and home tours are being conducted virtually. For prospective home buyers, this new territory brings an added element to prepare for in the home buying process. Some of the questions that should be asked in a virtual home tour parallel those of in-person tours, but others are unique to today's virtual world.
Could you zoom in?
Sometimes it can be difficult to get a true glimpse at what you want to see in a room. Asking the agent to zoom in on specific features is commonplace in virtual home tours, and they understand this is part of the viewer experience. Don't hesitate to ask multiple times. Getting a better look at everything you want to see will help you feel like you've gotten the most out of your virtual tour.
How many square feet are in this room?
Virtual tours can slightly distort space, making it tough to gauge the size. The room-to-room square footage is information the agent is sure to have handy. Since you can't be there in person, it will help you piece together the virtual visuals with the sense of physical space that we're all accustomed to feeling in the places we live.
What color is that?
In the smartphone era, and computer era at large, we have come to understand that digital representations of color are not always true to the eye. Ask the agent to confirm specific colors so you can plan accordingly. Have a color swatch on hand or look the colors up online as you go through the tour.
When were the appliances last updated?
The importance of this question rings true in past, present, and future. Knowing the state of the home's appliances, and the likelihood and timing of when they will need replacement, is vital information for both assessing the move-in readiness of the home and understanding what costs might lie ahead.
Has the seller provided an inspection?
This is another example of a critical question, whether your home tour is virtual or physical. If the seller has already done an inspection, ask the agent to lead you to any areas of concern based on the inspector's findings. If there is anything that has not yet been addressed by the seller, have your agent ask what their plan is for making the necessary repairs/updates.
When is the offer review date?
Understanding the seller's timeline for reviewing and accepting offers will help guide your decision-making process and allow you to strategize based on the timeline.
Whether your home tour is physical or virtual, getting the information you need to make an informed decision remains paramount. Although there is no substitute for physically being in the home you are looking to buy, keeping these questions in mind will position you well as you progress through the home buying journey.
Originally posted on Windermere.com by Sandy Dodge